Beebo Is Back In Panic At The Disco's 'Dancing's Not A Crime' Video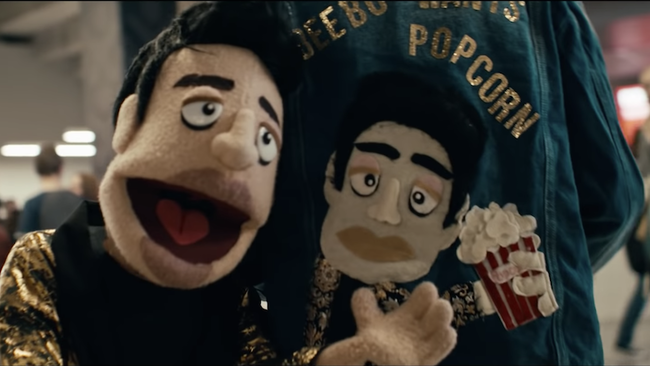 We first met Beebo last year, in one of our favorite music videos of 2018 — "Hey Look Ma, I Made It." In that video, the puppet gets into all kinds of trouble before finally figuring it out in the end.
Panic! At The Disco decided to bring back the infamous muppet for their "Dancing's Not a Crime" visuals; however, he doesn't seem to figure it out by the end of this one. The clip begins with Beebo getting a text from P!ATD frontman Brendon Urie letting him know he got VIP tickets to the show that night. When the beloved puppet gets to the venue he gets a drink immediately...and doesn't stop. By the end of the video, Urie's so fed up with the battered muppet, he asks security to throw him out.
"Security just told me they found you in the bathroom, sitting on the toilet, puking your brains out," the singer yells at Beebo. "What do you have to say for yourself?" Just as the muppet opens his mouth, Urie says he doesn't want to hear it and we see security dragging the limp puppet out of sight.
Maybe Beebo will learn someday, but today is definitely not that day. Watch the "Dancing's Not a Crime" video below.